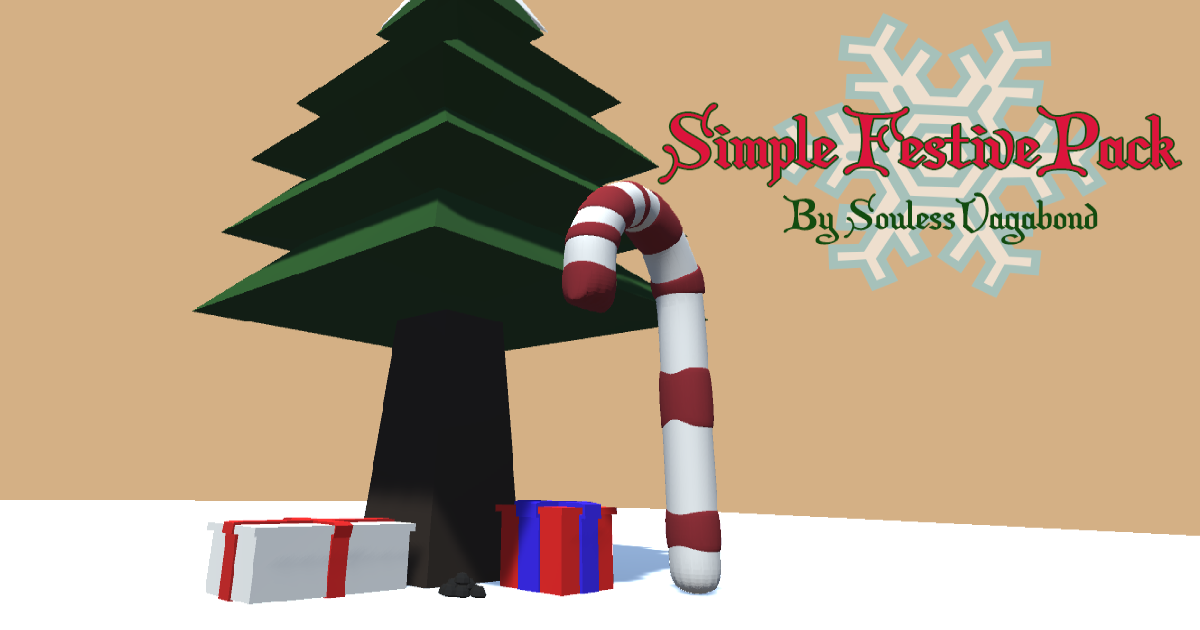 Simple Festive Pack
A downloadable asset pack
** I've moved to my business page https://outbackgames.itch.io contact me there for any questions**

Welcome to the Simple Festive Pack, Version 2 is now up and available for purchase!
This Unity Asset Pack is designed with simplicity in mind, using simple colours and props to give an aesthetic feel that teens and children alike would enjoy looking at while they play your game.

Currently the pack includes (with prefabbed models):
1x Pine Tree with removable snow cap
1x Rectangular Prism Giftbox
1x Cube Giftbox
1x Smoothed low poly candy cane
1x low poly rough candy cane (for whatever reason, you may like it more)
1x coal rock
1x coal rock pile (just an empty with coal children)
** NEW MODELS (V2) **
Gingerbread Wall With Icing (Used for roof parts as well)
Gingerbread House Wall (Back)
Gingerbread House Wall (Front)
Gingerbread House Door
Every model is customizable with colour, this includes:
Tree Leaves
Tree Trunk
Snow Cap on Tree
Candy Cane Body
Candy Cane Stripes
Box Colour
Ribbon Colour
Coal Rock Colour (idk why but you might like a lighter colour or just use it as pebbles)
icing colour
gingerbread colour, comes in standard dark brown ginger bread.
Models Support height and rough maps to give a more "gingerbready" feel, tested with textures.com Texture "Scanned Plain Snow"
https://www.textures.com/download/3dscans0089/128337

Over time I will be adding more to this pack, the price will NOT increase with those changes, so if you need to buy another license for the pack later down the track for any reason, you don't have to pay more than what you did the first time :D

| | |
| --- | --- |
| Status | Released |
| Category | Assets |
| Release date | Nov 02, 2019 |
| Author | MordecaiBloodshadow |
| Made with | Unity, Blender, Maya |
| Tags | 3D, Atmospheric, Blender, Christmas, festive, Low-poly, Minimalist, models, props, Unity |
| Average session | A few seconds |
| Languages | Afar, Abkhaz, Avestan, Afrikaans, Akan, Amharic, Aragonese, Arabic, Assamese, Avaric, Aymara, Azerbaijani, Bashkir, Belarusian, Bulgarian, Bihari, Bislama, Bambara, Bengali, Tibetan Standard Tibetan Central, Breton, Bosnian, Catalan; Valencian, Chechen, Chamorro, Corsican, Cree, Czech, Old Church Slavonic, Chuvash, Welsh, Danish, German, Divehi; Dhivehi; Maldivian;, Ewe, Greek Modern, English, Esperanto, Spanish; Castilian, Spanish; Latin America, Estonian, Basque, Persian, Fula; Fulah; Pulaar; Pular, Finnish, Fijian, Faroese, French, Western Frisian, Irish, Scottish Gaelic; Gaelic, Galician, Guaraní, Gujarati, Manx, Hausa, Hebrew (modern), Hindi, Hiri Motu, Croatian, Haitian; Haitian Creole, Hungarian, Armenian, Herero, Interlingua, Indonesian, Interlingue, Igbo, Nuosu, Inupiaq, Ido, Icelandic, Italian, Inuktitut, Japanese, Javanese, Georgian, Kongo, Kikuyu Gikuyu, Kwanyama Kuanyama, Kazakh, Kalaallisut Greenlandic, Khmer, Kannada, Korean, Kanuri, Kashmiri, Kurdish, Komi, Cornish, Kirghiz Kyrgyz, Latin, Luxembourgish Letzeburgesch, Luganda, Limburgish Limburgan Limburger, Lingala, Lao, Lithuanian, Luba-Katanga, Latvian, Malagasy, Marshallese, Māori, Macedonian, Malayalam, Mongolian, Marathi (Marāṭhī), Malay, Maltese, Burmese, Nauru, Norwegian Bokmål, North Ndebele, Nepali, Ndonga, Dutch, Norwegian Nynorsk, Norwegian, South Ndebele, Navajo Navaho, Chichewa; Chewa; Nyanja, Occitan, Ojibwe Ojibwa, Oromo, Oriya, Ossetian Ossetic, Panjabi Punjabi, Pāli, Polish, Pashto Pushto, Portuguese (Portugal), Portuguese (Brazil), Quechua, Romansh, Kirundi, Romanian Moldavian Moldovan, Russian, Kinyarwanda, Sanskrit (Saṁskṛta), Sardinian, Sindhi, Northern Sami, Sango, Sinhala Sinhalese, Slovak, Slovene, Samoan, Shona, Somali, Albanian, Serbian, Swati, Southern Sotho, Sundanese, Swedish, Swahili, Tamil, Telugu, Tajik, Thai, Tigrinya, Turkmen, Tagalog, Tswana, Tonga (Tonga Islands), Turkish, Tsonga, Tatar, Twi, Tahitian, Uighur Uyghur, Ukrainian, Urdu, Uzbek, Venda, Vietnamese, Volapük, Walloon, Wolof, Xhosa, Yiddish, Yoruba, Zhuang Chuang, Chinese, Chinese (Simplified), Chinese (Traditional) |
| Links | Blog, Twitter, Patreon |
Purchase
In order to download this asset pack you must purchase it at or above the minimum price of $1 USD. You will get access to the following files:
Simple Festive Pack by SoulessVagabond v1.0.0.zip
2 MB
Simple Festive Pack by SoulessVagabond v1.0.0 (FBX MODELS).zip
1 MB
Simple Festive Pack by SoulessVagabond v2.0.0 Unity.zip
3 MB
Simple Festive Pack by SoulessVagabond v2.0.0 (FBX Models).zip
3 MB